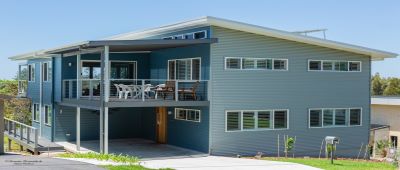 "Having bought a block of land with potential ocean views at Tuross Head on the NSW south coast, I was looking to build a house that would realise that potential and be a simple, modern, low maintenance home away from home.

I found a design that I liked for an upside down beach house on the True North Design Co website and contacted Tony Marshall to discuss my needs. After assessing the block, Tony and his team adapted the design and layout to suit the size of the block and its orientation, keeping in mind my budget and desire to take advantage both of the views and the solar opportunities for warm corners out of the breeze.

Tony, Lucy and the team were a pleasure to work with and really understood what I wanted, making many creative and useful suggestions along the way. They prepared all the documentation to a high standard and saw the project through council approval processes, liaising with council officers on any queries.

The result is a design that picks up everything I liked about their original beach house but which is beautifully adapted to the site and my own needs.

But it didn't stop there. Following council approval, Tony prepared detailed specifications and sent the project out to tender with local builders so that they could quote on it with a high degree of accuracy. He liaised with the builders and guided me through the process. The specification document was a valuable tool in helping me to visualise the outcome and to understand what was involved in all phases of construction.

I have now chosen a builder and I am confident that Tony will continue to be there to respond to any queries about the details as we bring the project to its conclusion. I know I'll be very happy with my lovely True North beach house."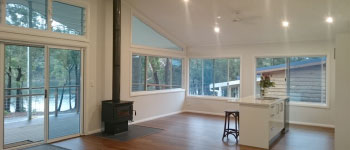 "True North Design was very easy to work with and very receptive to our original plan ideas that we presented. My wife, and I liked the suggestions for modifications to our basic design and suggestions for compliance with council regulations.

We are very happy with the end result, and were pleasantly surprised when it was actually finished before Christmas as promised. Overall the quality of the build is good and the added touches like plenty of storage space, great window coverage, high ceilings and airflow, kitchen design and taking advantage of the great view make it a wonderful house to live in.

We would happily recommend True North to any home owner who wants a reliable builder who states clearly what is involved regarding design details, suggested improvements, costs, council compliance and materials and gets the job done on time with minimum fuss.

Thanks for a great house."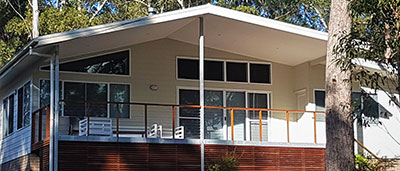 "The design process for our holiday home involved consultation in person and by email and phone with Tony and Lucy.

Tony took our broad design ideas and thoughts and came up with a great final design (developed through a number of negotiated stages) that satisfied our needs. These included large front and back decks, a large central living space, north-facing rooms with large windows and doors, high windows to take advantage of the view and the character of the site and full advantage of its natural attributes.

From the outset Tony and Lucy had suggestions that were not within our original thinking (such as room positioning) but which significantly enhanced the end product. Any issues were dealt with promptly and professionally.

We have ended up with a beautiful house with which we are very satisfied."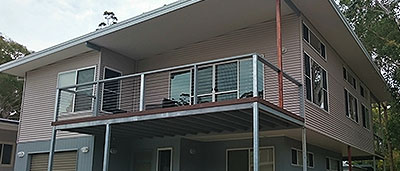 "Finding a good designer / builder is a lottery at the best of times, let alone when doing it from 250km away. Deciding on Tony and Lucy Marshall from True North Design was the best decision we could have made.

Everything from the design process right through to the completion of the house went smoothly. The team of Tony, Lucy and Kerri were supportive and helpful in every possible way, subsequently making the building of our beautiful house an enjoyable process."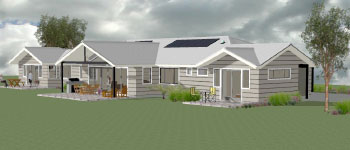 "Every morning – upon waking in our new home – I say to Hendre, "I love this house. I can't believe we are here, that this is ours and it is so beautiful.

The light in the house is extraordinary. As the whole house faces true(ish) north, all rooms are bathed in natural light. We also appreciate the little nooks and crannies of the house – there are various small verandah spaces that protect us from strong heat and we can sit undercover, with great satisfaction, as it rains. All of the intelligent passive and active solar design features make a difference to our lived experience of the house.

Thank you Tony and Lucy for co-creating this amazing home design and build process. Your expertise, humour, candour (read: reassurance that all would be well!) is much appreciated, especially now, as we sink into the reality that this home is actually ours for the experiencing and growing into."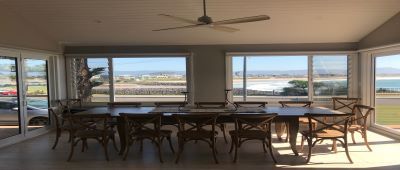 "My project is a new beach house which will replace a much loved old fibro cottage on the South Coast. After a few forays with other architects and designers I feel very lucky that I came across Tony Marshall and his team as they just seemed to 'get' what our family is trying to build.

Initially, we met at True North's office in Milton where we talked at length and I felt excited to go ahead with our second meeting which was on site. Out came Tony's computer, the camera and a very in depth discussion followed about what our family needed from the new house. We talked about materials, styles and at the end of our meeting we had a draft of a plan and we were underway. How fantastic to have a layout to work with on Day 1!

Refreshingly, throughout the design process, I felt that Tony, Lucy and Andrew were really listening.

Having good ideas, understanding the landscape, staying true to the brief, keeping a control on the budget and being open to suggestions is exactly what you need from a design team. True North delivered on all these counts and also provided great guidance in the selection of a builder as unfortunately the property is too far away for Tony to build the house!

Interestingly, all the builders who have quoted on the house have commented on the quality and detail of the plans and specifications. The council process was also seamless.

It has really been an enjoyable, collaborative experience. I have absolutely NO hesitation in highly recommending True North Design.

We begin to build in 2 weeks time!"
"Thanks again Tony and Lucy for all your hard work.

We had a lovely time during Easter and the house worked beautifully for an intergenerational holiday.

We managed to catch up with many of our Berrara neighbours and I suspect they got sick of us singing your praises. You really have done a spectacular job in transforming the cottage and even more importantly, your commitment and thoughtfulness made the whole project comparatively easy.

Not only did you provide expertise but we really appreciated all the personalised care – the chairs, wine and flowers were especially appreciated."
Discover the creative excellence of True North Design Co.